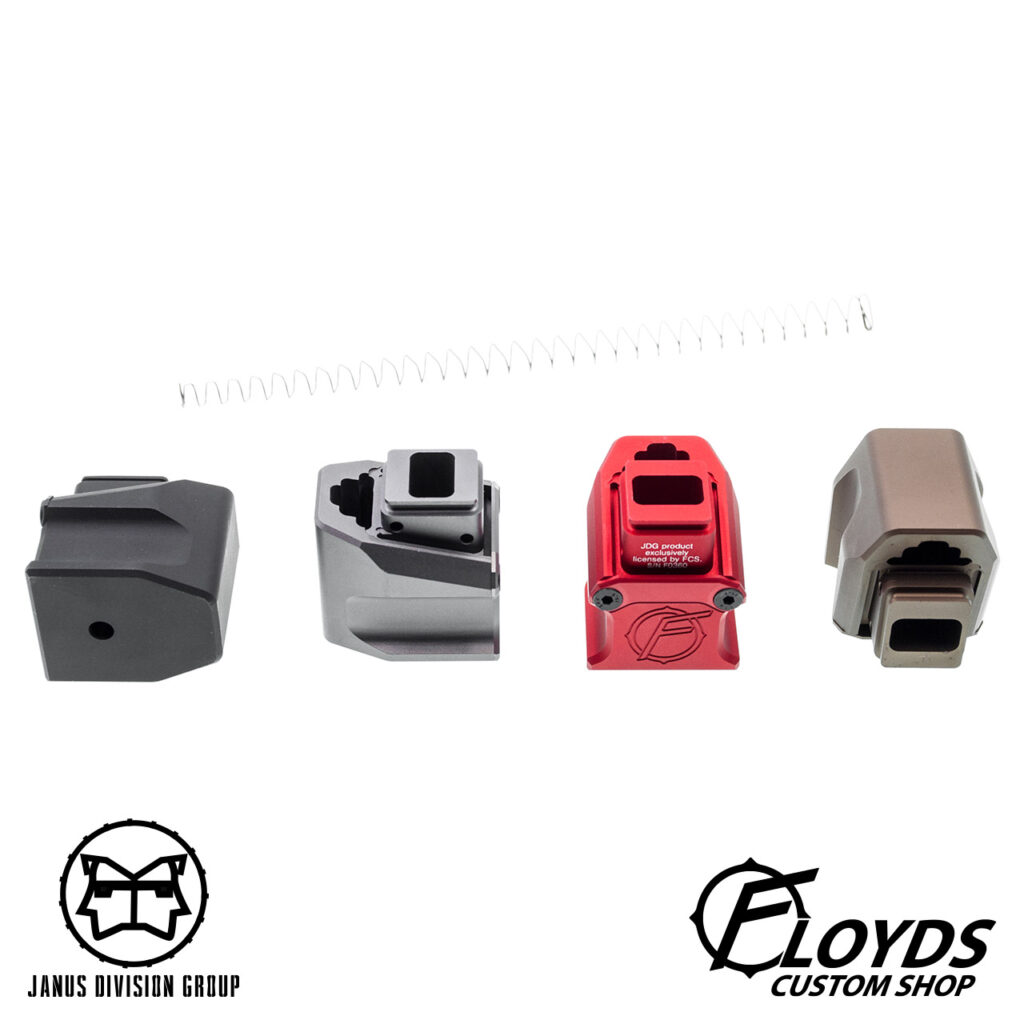 Janus Division Group ("JDG") is proud to announce its collaboration with Floyd's Custom Shop Inc. ("FCS") under a worldwide exclusive airsoft licensing agreement to manufacture, sale and distribute FCS licensed airsoft products for the market.
We at JDG are very excited to work with FCS to bring their unique product design into the airsoft market.
JDG will first release the magazine extensions and magwells for Tokyo Marui's S&W M&P9, and G model platforms.
Later, JDG will produce S&W M&P9 slides with FCS unique designs for the Tokyo Marui platform. All FCS licensed products follow the design specification directly from FCS.
JDG's licensed products for the FCS brand use high quality 6061-T651 aircraft aluminum, milled with multi-axis CNC machines, and finished with fine sandblasting and anodization to improve durability and longevity of the products.
JDG meticulously quality check all licensed products before commercial release, to provide airsofters with high quality licensed airsoft products that they can trust.
Please keep an eye out on our Facebook Page, and the JDG licensed products are due for immediate release.
Janus Division Group 好高興宣布與Floyds Custom Shop 達成全球獨家授權(Authorized license),授權許可生產Floyds玩具氣槍配件等產品。
JDG 很高興可與Floyds合作,將Floyds的獨特風格設計帶入玩具氣槍市場。
JDG 將會優先推出玩具氣槍TM系統M&P及G Model系列的Mag Ext. & Magwell等。
陸陸續續會推出M&P Slide(TM系統)等!
JDG x Floyds License的產品,由Floyds提供圖稿及監制細節等,交由JDG授權許可生產玩具氣槍版本。
玩具版材質採用高品質6061-T651鋁合金CNC精密加工,表面處理經由噴砂打滑及陽極上色,加強抗蝕及耐用度,不論外型及刻字都追求完美!Tactical玩家高度注目!
請留意我地FB!產品將會即將推出!
#jdg #janus #division #floyds #usa #airsoft #lincense #pewpew #我們都是玩家 #勝價比高